Planning to buy a Xiaomi Mi3 from Flipkart? Of course it's a classy handset with high-end specs and tons of built-in features (of MIUI) but this phone has some very strange bugs. I am going to discuss those issues or bugs with this phone which I am facing and also those, which many people are reporting.
1. Over Heat
This is a common issue with every smartphone these days. Even my Nexus 5 gets over heated while rendering heavy graphics of some games. But the bad thing about Mi3's over-heating is that it gets very hot near the ear-piece which makes a user very uncomfortable to make or receive calls.
While checking the CPU and battery temperature on CpuTemp app, I found that CPU reaches 70 degree celsius  at max (Nexus 5 reached 65 degrees in tests). I read a funny and silly comment on Flipkart from a buyer, he wrote "Instead of getting hot, this phone gets cooler because of metal frame".
2. Messed Up Display
A few days back, I posted a video on youtube showing a very strange touch activity on Mi3's display. I saw this kind of display error for the first time ever in any smartphone. But there's a good news. It sorted out through a software update. Strange! I thought it was a hardware issue. Also, this problem arose after an update.
But as of now, phone's display and touch panel is working well. I just wish that this doesn't arise in future because of any update or anything.
3. Xiaomi Customer Service
Seriously, Xiaomi has no management for customer service (not even globally). They don't reply to your mails no matter how many times you remind them to reply. They don't reply to tweets with complaints. I tried to contact them via emails, but they left them unanswered. Someone has yet to test Xiaomi's service centres in India.
People are reporting Flipkart's pathetic service about Xiaomi Mi3's service and replacements. Some users aren't getting replacement product even after 3 weeks. So incase you buy Mi3 from Flipkart and unluckily you get a defective piece, you might have to wait from one week to many because of high demand and less supply.
4. Lock Screen Clock
This is a silly bug and again something which I experienced for the first time in any smartphone. So should I consider that this phone started showing its Chinese attitude?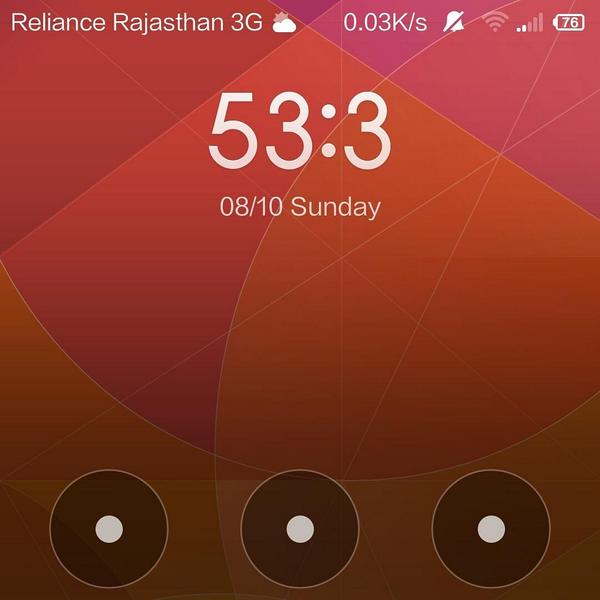 As you can see in the picture above, the clock is showing the time backwards. This could be a problem with my handset only!
5.Faulty Sim Card Tray
Many users are complaining about the stiffness of Sim card slot on Flipkart.
These things should help you decide whether to buy this phone or not. In my very own opinion, at this price this phone is a steal and everyone doesn't get defective products. You can read my full review of Mi3 which should help you a bit. It's just that Xiaomi has to correct their after-sales service and speed up replacement process and Flipkart should handle RMA first, before selling phones to new buyers.